The Legend of Aurum Draconis has been in beta for 4 months. This has allowed us to discover and fix bugs, optimize gameplay, and build new features. Community is and has always been an essential part of DCG – and we hear you.
We are ecstatic to announce new in-game features that bring extra utility to the $DCAR token. Features that act as token sinks and help improve the in-game ecosystem. DCAR will get extra deflationary mechanics and in-game rewards. Sounds good, right?
Reminder: As per tokenomics, 20% of the spent DCAR will be burnt, 5% will go to the ecosystem fund, and 75% to in-game rewards.
List of new features to go live before the Avalanche Mainnet launch:
Every piece of weapon and armor item in Dragon Haven now has a new stat: durability.
New game mechanic: repairing. Fix the durability of items, bring broken items back from destruction with collected resources like wood or iron bars.
New in-game activities: crafting and repair marketplaces where you can collect bounties in DCAR
Repairing items
The repair marketplace has been unleashed! Players can now show off their crafting skills and repair broken gear for others in exchange for a lucrative reward. When a player needs a repair or blueprint crafter, they post a bounty in the market place. Crafters can scour the market and find the best deals and crafts for their skill and materials on hand.
Like other player crafting, it costs DCAR to craft, which goes to the rewards pool for players daring enough to explore exciting locations on the map. But beware, the dangers of combat are real, and equipment can now be damaged, making the repair market a necessity for all daring players.
To list an item on the craft marketplace hover over a blueprint over inventory, then choose what materials and extras you'd like, make sure to reward wisely if you're going for something exotic!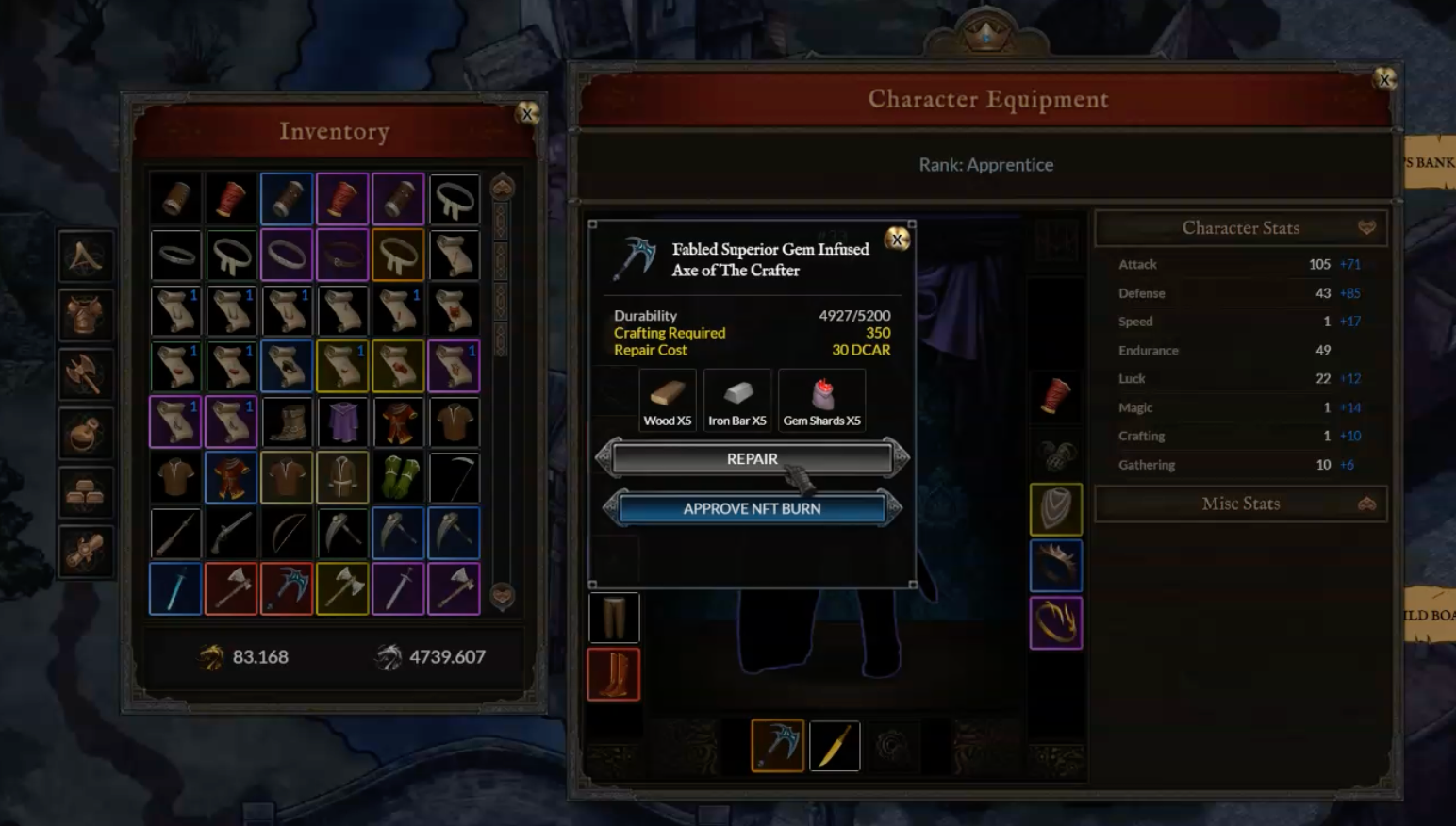 The Legend of Aurum Draconis is currently in open beta on the Avalanche Fuji Testnet. Reach out to us via Twitter or Discord for a Testnet Hero NFT and experience blockchain-powered RPG for yourself.
Prepare for the upcoming Mainnet launch by grabbing yourself a customizable Hero NFT to get full access to the mainnet game here: https://nftrade.com/assets/avalanche/0x7a420aeff902aaa2c85a190d7b91ce8beffffe14?search=&sort=listed_desc