It's been 3 days since The Legend of Aurum Draconis launched on the Avalanche C-chain. The team and community are positive and humbled by the current metrics. Let's jump in and see how the first weekend went, what devs have done so far, and what we can look forward to in the future!
Player Activity and Metrics
We are astonished by the players' activity in the last 72 hours. The all-time high was 147 Daily Active Users (DAU).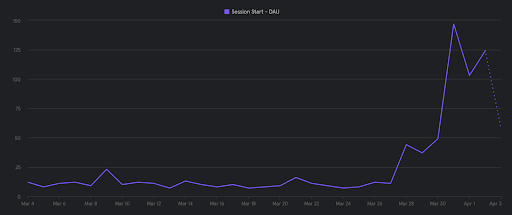 When it comes to marketplace/NFT/tokens activity, it's nothing less impressive than the DAU activity:
Volume across items and resource markets almost $2000
Total equipment minted > 9000
Total consumables burned > 19000
Total battles >35700
33 DCAU burned (~$580)
2350 DCAR burned (~$180)
Some of these metrics can also be found on our public dashboard: https://play.dragoncrypto.games/dashboard.
We are continuously working on adding relevant data about the game to the dashboard for everyone to see.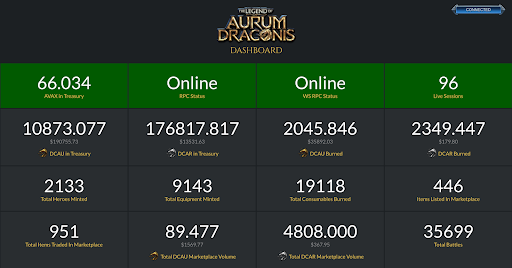 The community brought up another mind-blowing statistic - our equipment trading has already secured an all-time second place on Avalanche!

Dev Updates
Devs got little sleep past weekend; here are the updates that have already been made to the game after launch – bug fixes and game balance updates:
Announcement on April 1, 2023:
Free resurrections for level 1 characters
Reduced cost of resurrections for all other levels
Tweaks made to Powerful enemies to reduce their overall stats
Tweaks made to "flee" with lower-level characters – the lower your level, the higher your chance of success
Reduced the damage to weapons when fighting in the plains to be more in line with armor (~60% reduction!!)
Further tweaks were made to server-side error handling
Loot balancing: bosses and random encounters will always give item loot
Announcement on April 2, 2023:
Heroes at level one can now reset their stats. This is only available for level 1 characters.
Multiple tweaks have been made to in-game rewards from multi-hero fights and feedback
Fixed a variety of server stability issues that have been found through continuous monitoring & feedback
Announcement on April 3, 2023:
Dashboard updates and tweaks
Fixed some claim issues
New partner heroes have been implemented/minted/distributed
Dollar values are now shown in the stash, and users need to refresh their browser if they don't see it
Fixed an issue with exp/turns refreshing on random events (i.e., the shrine event in The Plains)
Tweaking will not stop here, and devs are carefully tracking the player's performance and are consistently working on improving the gaming experience!
Partner Heroes
Welcome these legendary Affinity series heroes in Dragon Haven!
They will have the same characteristic as Corruption, bonuses in magic!
They are made in the theme of our partner projects Elk Finance, Fief Guild, Avalaunch (unclaimed 👀), Trader Joe, SkyMeta Guild, Asgard, and Benqi Finance!
Partner heroes were minted and distributed to the giveaway winners.
https://joepegs.com/collections/avalanche/dragon-crypto-hero?attributes=%5B%7B%22traitType%22%3A%22Series%22%2C%22values%22%3A%5B%22Affinity%22%5D%7D%5D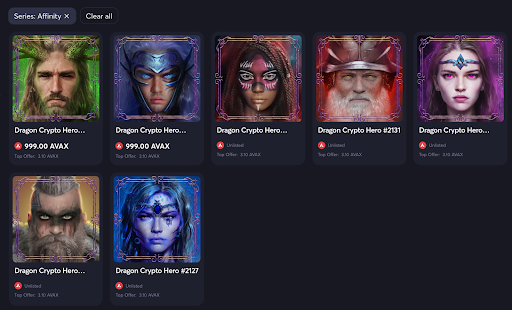 We can't forget to mention DCG Hero trading activity! 72 DCG Hero NFTs were sold across Avalanche secondary marketplaces, with:
440 AVAX in volume
44 AVAX highest sales
32 heroes sold in the last 24 hours!

Check out https://www.avalytics.xyz/collection/0x7a420aeff902aaa2c85a190d7b91ce8beffffe14/overview for more details!
Also, you can now check the heroes' levels on our website before you make a purchase: https://play.dragoncrypto.games/heroes
The community has been asking, 'when new mint?' - we are aware that the floor at 6.8 AVAX is making our game less accessible, and we do have multiple mints planned in the near future!
So our answer is: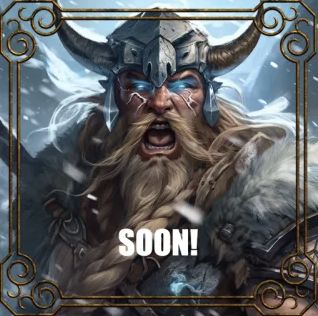 P.S. April 4th will make the 1st birthday of the Corruption series! Happy Birthday!
Community
Join us for the upcoming AMA/Spaces, and follow our socials to get the links for the venue:
MCVerse - Monday, April 3 @ 8 PM EST

Avalaunch - Tuesday, April 4 @ 4 PM PST

Heroes of NFTs - Wednesday, April 5 @ 5 PM UTC

Weekly AurumDraconis Livestream w/ Nick - Thursday, April 6 @ 1 AM UTC

MTOPSwap - Thursday, April 6 @ 11 PM UTC

Join Siv's streams every day @ 22:30 UTC
https://www.twitch.tv/sivdraconis
Also, check out his previous streams, and don't forget to follow him!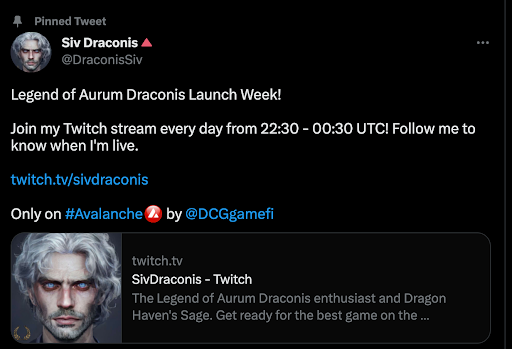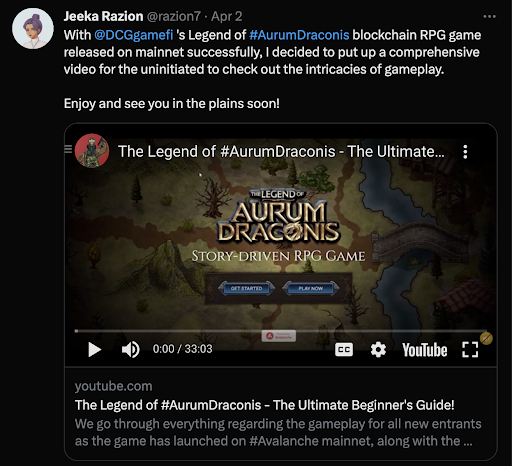 What highlighted post-launch time in the community was this marketplace made by Brainiac. Check out what he's been selling https://docs.google.com/spreadsheets/d/10xQGz6QLxCxOL9ROs6W8hm27vFK4Qz7k_CXW8al3MIU/edit#gid=2031643343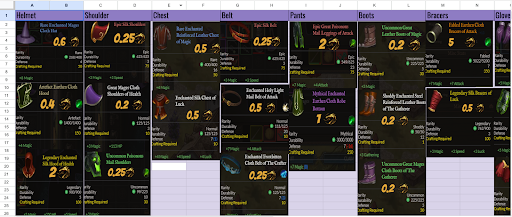 For the best alpha and curated info, follow our ambassadors:
https://twitter.com/DraconisSiv
https://twitter.com/___Brainiac
https://twitter.com/razion7
https://twitter.com/LOADheroVan
https://twitter.com/leoeo60029165
https://twitter.com/andy8810https://twitter.com/xShark89x
https://twitter.com/Ghostface_avax
https://twitter.com/jhallmanndop
https://twitter.com/lazer335
https://twitter.com/mindshuffler
And this newly created Strategy Guide Twitter account made by the community: https://twitter.com/LoADGuide
What are we working on next?
We don't like to overpromise things, but the top priority is improving quests, introducing PVP mode, optimizing UX, and working on graphic overhaul!
Watch the video update made by Nick: https://www.youtube.com/watch?v=n1uw3PLeX6g&t=12s
Join our Discord community to stay on top of LOAD things!
https://discord.gg/dragoncryptogaming
Useful Links
Game Website: https://aurumdraconis.dragoncrypto.io/
Game link: https://play.dragoncrypto.games/
Game Dashboard: https://play.dragoncrypto.games/dashboard
IGDB (Thank you Siv!) https://www.igdb.com/games/the-legend-of-aurum-draconis--1
Fandom Wiki https://load.fandom.com/wiki/The_Legend_of_Aurum_Draconis
Documentation: https://docs.dragoncrypto.io/en
LinkTree: https://dragoncrypto.io/links