Unlocking New Horizons in Aurum Draconis:
It's a momentous day in the ever-expanding universe of Aurum Draconis! A feature you've all been eagerly waiting for willl be launched on September 6 at 5 PM utc: Staking $DCAR (Dragon Crypto Argenti).
This isn't just another layer added to our game; it's a game-changer that will redefine how you earn and maximize your rewards. But that's not all; staking is your exclusive gateway to earning our new in-game token, COPPER. Let's delve into what makes this feature the talk of Dragon Haven.
Where It All Happens: Grom's Bank
Smack dab in the center of Dragon Haven lies Grom's Bank, an architectural marvel managed by none other than Grom, our goblin bank teller. This is where you can stake and lock your DCAR. Grom will be happy to see you lock your DCAR for extended periods—think of it as making an old goblin's day (really tho, remember to check out his facial expression!).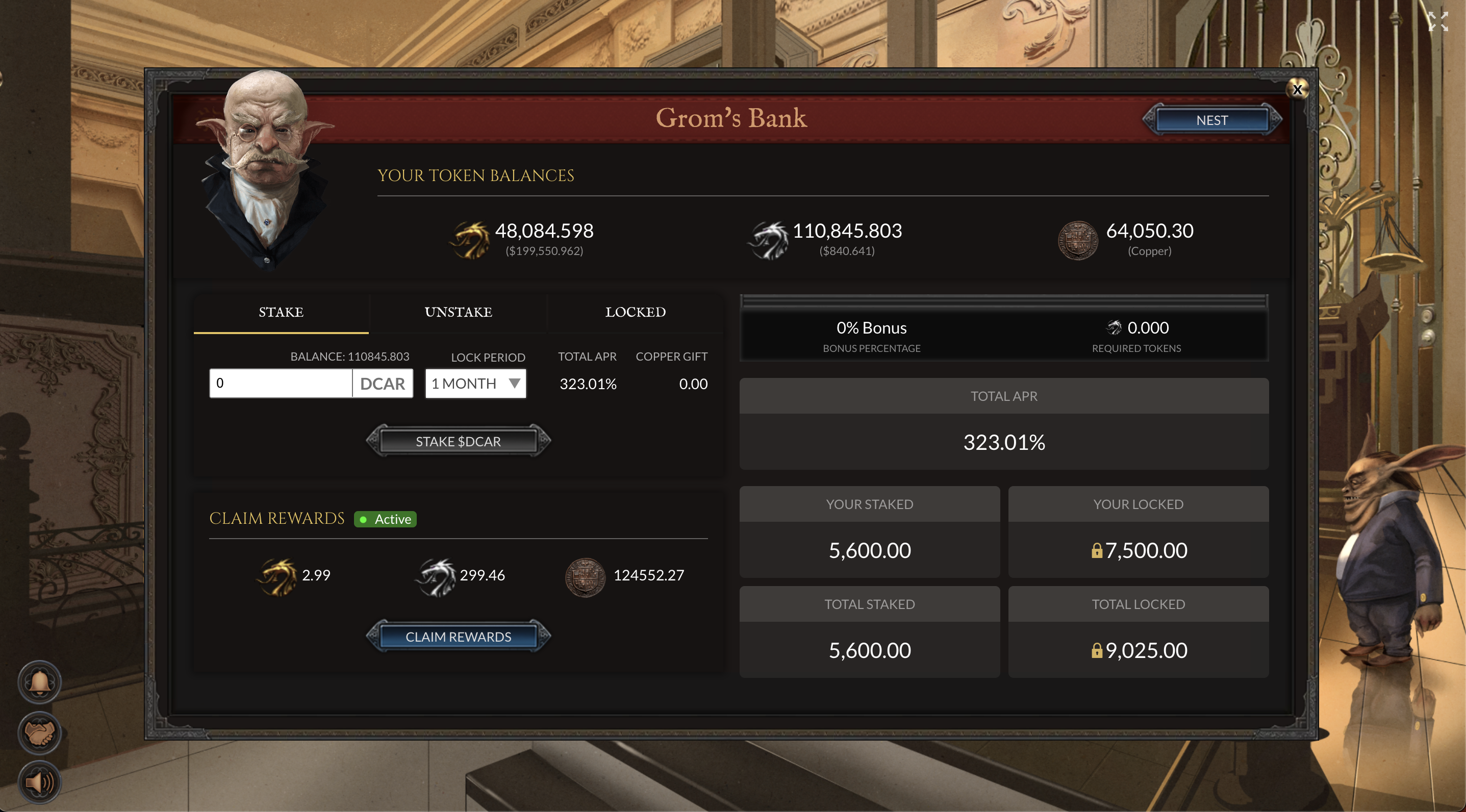 The ABCs of Staking and Locking
Here's how it works: Choose the amount of DCAR you wish to stake, and then decide on a locking period. The options are flexible—you can lock your tokens for 1, 3, 6, or even 12 months. Earn DCAU, DCAR, and COPPER. The longer you lock, the juicier bonus and COPPER rewards get.
Note: Opting not to lock your tokens will cost you COPPER and other bonus rewards. So, lock wisely!
The Reward Triad: COPPER, DCAU, and DCAR
COPPER
This new in-game token is your reward for locking DCAR. Initially, COPPER will allow you to reroll guild quests, giving you greater control over your in-game experience. More utilities for COPPER will roll out over time. The longer you lock your DCAR, the more COPPER you earn, which is paid out the same moment you lock your tokens! The beauty of COPPER is that you can't purchase it, and it's not even on the blockchain—it's a game-specific utility token that amplifies your experience.
DCAU and DCAR
These are your other two types of rewards. Stake your DCAR, and you'll earn DCAU and additional DCAR.
Added Perks: DCAR Bonus Rewards
Locking your DCAR (and not merely staking it) contributes toward a looting bonus in the game. The incentive is clear: lock more, loot more.
Bank Features
Grom's Bank provides a comprehensive dashboard where you can keep track of staked amounts, locking durations, earned rewards, and even see estimates of your future gains (APR).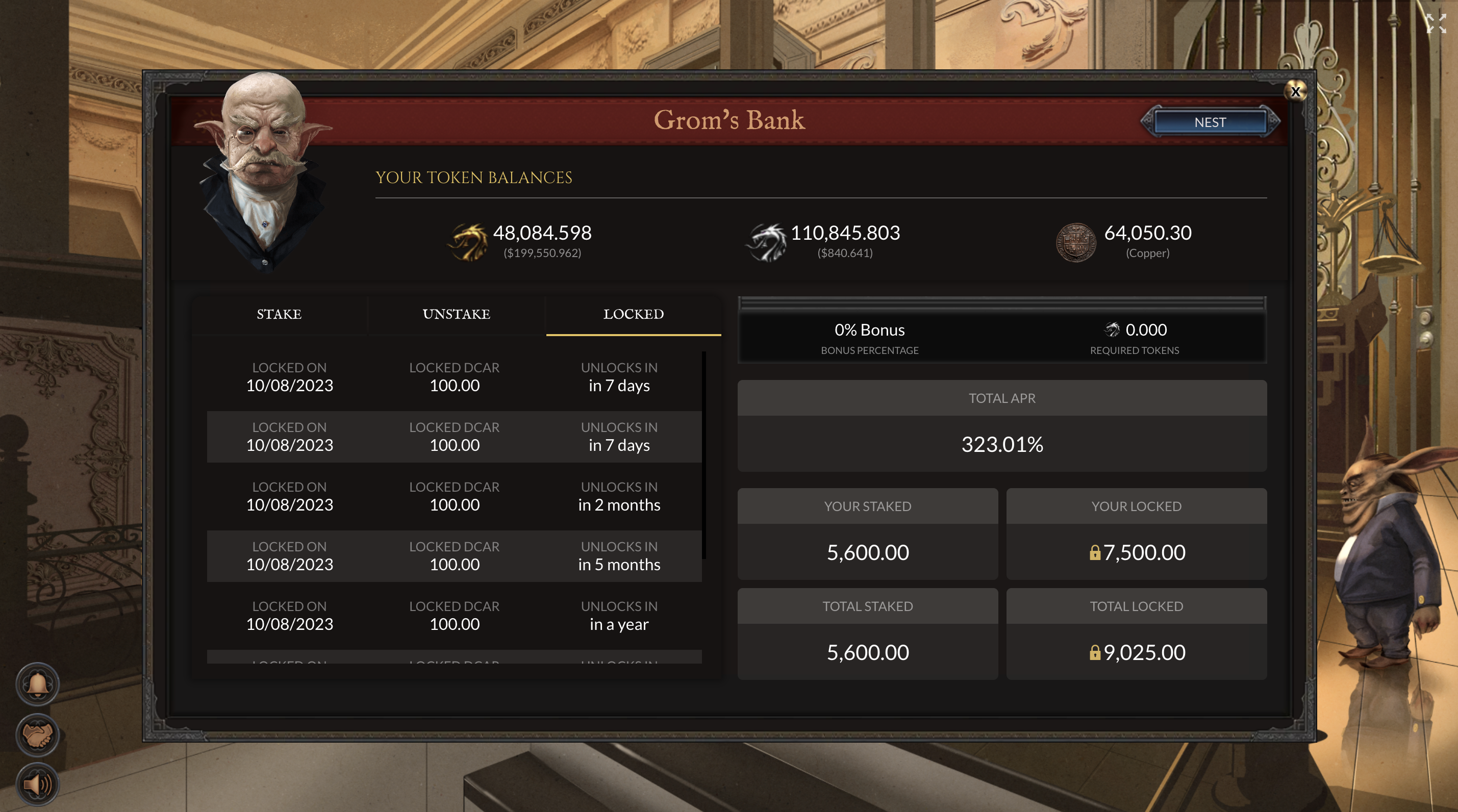 Staking vs Locking
While staking will get you DCAU and additional DCAR, locking is essential for earning COPPER and availing yourself of the looting bonus. Starting with the staking launch, unlock DCAR reward bonus from looting exclusively by locking your DCAR.
Why COPPER Matters
The introduction of COPPER is a calculated move aimed at encouraging long-term engagement. Its initial utility—rerolling quests—adds a dynamic layer to the game, making it a valuable asset within our ecosystem and more cool utilities yet to come!
So what are you waiting for? Head over to Grom's Bank in Dragon Haven and be part of this exciting new chapter in Aurum Draconis!
If you don't have a hero, you can mint it here: https://joepegs.com/mint/avalanche/hereos-from-distant-lands-the-next-chapter
Update:
Thanks for your questions and feedback on our recent announcement about staking mechanics. We realize some aspects were unclear, so we're working to provide a more detailed explanation before the feature goes live. Appreciate your continued support!
Intro: We have this silver token in the Legends of Aurum, called $DCAR (short for Dragon Crypto Argenti). Starting September 6, If you come to Grom's bank and decide to stake your $DCAR, you have two options:
a) Stake with no-lock - only receive $DCAR and $DCAU staking rewards ( no Copper or in-game bonus rewards)
b) Stake with lock - Receive $DCAR, $DCAU, Copper, and in-game bonus rewards ($DCAR)

Let's have a workable example, shall we?
If you stake and lock 100,000 $DCAR for 12 months, you will receive 4,800 Copper instantly and daily rewards calculated per second (TBD).
F.A.Q.
Why not just use $DCAR?
Some will ask why not just use $DCAR. Good question. We really want to promote the locking of $DCAR, which has been immensely successful in the DeFi space, so we might as well carry the successful attributes over.
Where are staking rewards coming from?
$DCAR and $DCAU rewards come from grants and our treasury.
How is this sustainable?
Recycling our tokens ensures that we can continue to reward staking with $DCAU and $DCAR. If there are concerns about sustainability, the team reserves the right to adjust rewards as needed.
Is the amount of Copper capped? Or does it have an infinite supply?
With upcoming use cases, it is in everyone's interest to have an infinite supply.
Will I get in-game reward bonus by just holding my $DCAR?
Bonus rewards will be ONLY based on locked $DCAR amount and heroes and their levels.
Can I buy Copper?
No, Copper can ONLY be obtained from locking $DCAR in staking.
Can I sell Copper?
No, Copper is not an ERC-20 token. It is an in-game currency that has planned use cases.
Will I lose my Copper if I sell my heroes?
You will lose my respect, but no, you won't lose Copper.
Can I transfer Copper to another wallet?
No, Copper will be stored in our backend server and is not something transferable. It is tied to the signed-in wallet, which staked $DCAR tokens.
What are some of the precautions I have to take in order NOT to lose my hard-earned Copper?
You don't need to worry about the security of Copper, as it is not an ERC-20 token. It could be in your best interest to hold onto some, as there will be some exciting use cases in the future.
Can I get bonus in-game DCAR rewards any other way except by locking my precious DCAR?
Staking and locking as per the lock-period table above will be the only way to gain bonus in-game $DCAR rewards.
Is Copper paid out on a daily basis?
Yes, you will receive both instant payout and per second share based on the amount on your locked DCAR (just like you get DCAU and DCAR).
How is Guild Quest rerolling priced?
This is on testnet right now if you want to check it out, open a ticket if you don't have a testnet hero.
Is the staking contract safe?
Yes, the staking contract was audited by the best in the DeFi space - Paladin Security.
About Dragon Crypto Gaming
Dragon Crypto Gaming is a development company focused on building enticing games that utilize the power of blockchain technology. We are innovating a player-centric business model, our games feature player-owned assets in the form of NFTs and other game features that provide real value accrual to committed players.
Our raison d'etre is simple: build compelling games. Through our platform, we are fostering a thriving blockchain gaming experience.
Join our community: https://discord.gg/dragoncryptogaming
Check out our YouTube channel: https://www.youtube.com/@DragonCryptoGaming
Play at: https://play.dragoncrypto.games/